Web Sites for Private Home Rentals
LAUNCHED IN 2011

Petunia Patch
Heather was hired to redesign petuniapatchmv.com keeping the design similar to their old one page site, but recoding it to be more SEO friendly, and adding a custom content management area so that they could update and add new information to the site.
Scope of project by goffgrafix.com:
graphic design, website programming,

Graphic design by: Heather Goff
LAUNCHED IN 2005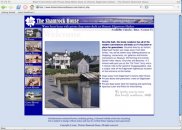 Shamrock House
The owners of this elegant water front vacation rental in historic Edgartown asked me to design a site for their property. The main description of this lovely home is static, however the availability and rates can be updated by the owners on the fly.
Scope of project by goffgrafix.com:
graphic design, website programming,

Graphic design by: Heather Goff
LAUNCHED IN 2003

greatharborrental.com


Scope of project by goffgrafix.com:
graphic design,
Graphic design by: Heather Goff
View goffgrafix website designs by client type