Graphic Design by About Signs programming by goffgrafix.com
Melissa is a talented logo designer and sign painter.
To contact Melissa Patterson about designing a website for you:
Phone: 508-693-8163
Email: info@aboutsignsmv.com
Website: http://aboutsignsmv.com/
2012 PROJECTS
LAUNCHED IN 2012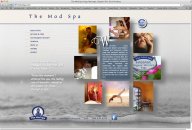 The Mod Spa
The graphic design of this site was done by Melissa Patterson of About Signs. Heather programmed a custom content management system so that the staff at The Mod Spa can manage their content.
Scope of project by goffgrafix.com:
web programming, database design and cms,

Graphic design by: Melissa Patterson
View more designs by Melissa Patterson